The Ultimate Guide to Competitive Intelligence Strategy
August 14, 2018 by Katie Berg
It's Time For a New Take on Competitive Intelligence
Competitors are moving faster than ever and new ones are popping up like weeds.
The markets we compete in have shifted (even this one), and we're faced with the challenge of building competitive intelligence programs that are instantaneous in capturing and sharing insights across the organization, with two purposes:
to enable better decision-making.
to bring in more revenue.
It's time to revamp your competitive intelligence program to thrive in today's markets.
Building a Competitive Intelligence Strategy: The Five Pillars Of Your CI Program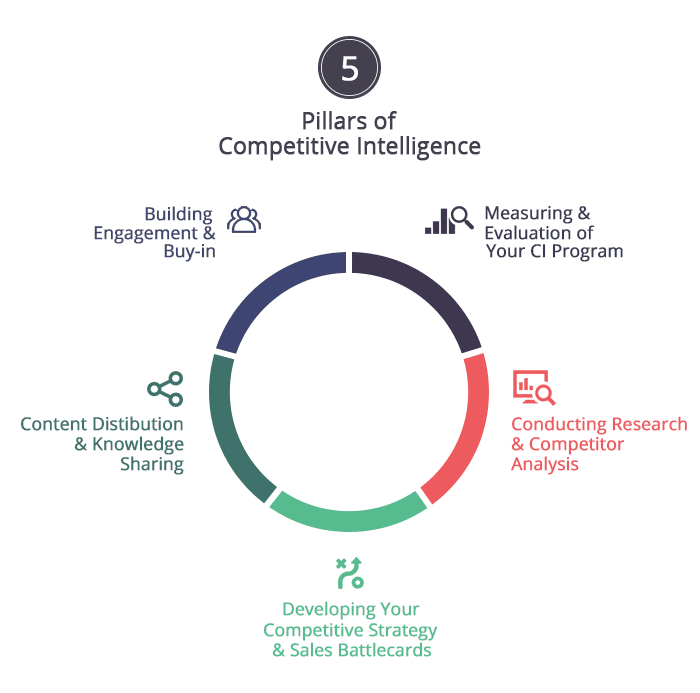 To help tackle this challenge, we're kicking off the Competitive Intelligence Expert Series where we'll share in-depth advice on the five foundational pillars of competitive intelligence:
1- Measurement & Evaluation of Your CI Program
2- Conducting Research & Competitor Analysis
3- Developing Your Competitive Strategy & Sales Battlecards
4- Content Distribution & Knowledge Sharing
5- Building Engagement & Buy-in
Subscribe to our Competitive Intelligence Expert Series now to fill your toolbox with new strategies and templates to improve your competitive intelligence practice.
We'll provide in-depth advice, share competitive intelligence examples, and best practices from industry leaders. To get you started, here are some of the best resources from our own analysts & across the web on the five pillars of competitive intelligence.
PART 1: Measuring your Competitive Intelligence Program: Identifying Objectives and Evaluating Performance
How do you currently measure your competitive intelligence program? We've seen many answers to that question.
Some measure the total dollar value of deals influenced.
Some measure the number of sales requests responded to.
Some measure the lift in sales performance in deals where competitive content was used.
Some use win-loss rates.
There's no one-size-fits-all method, but there are plenty of considerations when you're identifying the key performance indicators of your competitive intelligence program.
Evaluating Your Current Competitive Intelligence Program
Evaluating your current competitive intelligence program requires gathering internal feedback and quantitative sales performance metrics. There are multiple methods for gathering internal feedback from your Sales, Product, and Executive teams.
Surveys, direct interviews, and analyzing common requests from your sales reps, evaluate how others in the organization view the value of your intel. This provides guidance on areas for improvement. Analyzing sales performance metrics will give you a baseline for win rates, sales cycle length, and average deal size to measure against over time.
Choosing Performance Metrics
Once you've identified objectives of your competitive intelligence program and received buy-in from your stakeholders (Exec, Sales, etc.) around those goals, you'll decide on which key performance indicators to track to measure your success. This will likely include both qualitative and quantitive measures of performance. Check out the resources below to get started.
PART 2: Conducting Competitive Research and Competitor Analysis
Tracking Your Competitors: Data Collection Methods
Data collection is a top priority for many of the Product Marketers that we speak to. We get it. Collecting intel on your competitors can be incredibly time-consuming. It's rarely the fun part of competitive intelligence. The fun stuff for someone like you is more likely building competitive strategies on how to position against competitors in your market.
The challenge in collecting intel is knowing what external data to track, how to source internal knowledge, and ultimately, understanding what intel actually matters to move the business forward.
Competitive Analysis: Templates and Strategies
Once you've collected your raw competitive data, it's time to surface insights. Competitive analysis examines where your competitors' strengths and weaknesses lie to identify the best opportunities to beat them. Use the resources below to explore best practices on how to track your competitors and conduct competitive research.
PART 3: Developing Competitive Strategies & Sales Battlecards
Building Your Competitive Strategies and Positioning Messages
Building a strong competitive intelligence program requires building strong positioning messages and competitive strategies.
One of our clients, a fast-growing B2B SaaS company, is tripling their number of sales reps over the next year. One of the biggest challenges this presents is ramping their sales hires onto their own products, and making sure they understand how these products are positioned in the market. Battlecards help them to arm sales reps to deposition competitors, and also to prepare them to accurately speak to their own products.
Sales Battlecards will become your primary tool for distributing your de-positioning strategies to sales reps, a critical tool used to increase win rates against common competitors.
Sales Battlecards And Other Competitive Content
Competitive battlecards, playbooks, competitor decks, kill sheets. Whatever you call them, they're integral to your sales process. Given today's increasingly competitive markets, being able to effectively de-position a competitor is critical to closing deals.
Enter the competitive or sales battlecard. You need to coach sales reps through competitor de-positioning strategies, and to ramp them on your own product.
Subscribe to the series Competitive Battlecards 101 for battlecard templates delivered directly to your inbox. It's concise. 2-4 minute reads without marketing fluff. Just the goods on how to build effective sales battlecards, what each battlecard does and when to use them, using real-life examples built by our own competitive analysts and experts from leading B2B enterprises.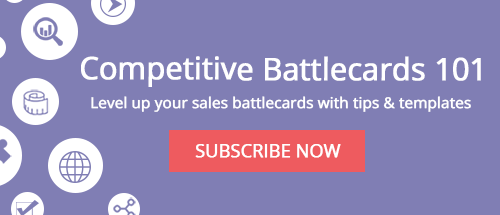 PART 4: Content Distribution and CI Workflow
Content Distribution & Knowledge Sharing
How does each of your stakeholder groups prefer to communicate? What channels do they use? Your sales reps may prefer Slack or Chatter. Your executive team may use email heavily and prefer communication with graphs and charts that help to visualize issues at a high level.
When you're building a plan to distribute your competitive intel, it's critical to take your stakeholders preferences into consideration. The success of your competitive intelligence program relies heavily on your ability to effectively communicate your insights to them.
The CI programs of yesteryear haven't made it easy to build a workflow around updating data and distributing real-time content. Your program needs not only good content but a strong content management strategy in place so that you are delivering fresh content and continuing to build trust with your stakeholders over time. It's critical.
Maintaining Intel Relevance and Managing Your Competitive Intelligence Workflow
Your program is only as good as the quality of content you produce. The phrase "Garbage in, garbage out," seems fitting here. Point being, the upkeep of your data and content is very important to the performance of your competitive intelligence strategy. Maintaining intel relevancy is a key component of your CI program.
PART 5: Building Engagement and Buy-In For Your Competitive Intelligence Program
Get buy-in from your boss, across departments, and from your executive team.  If you don't have it, your intelligence will go unused, you won't be impactful in helping decision-making or enabling your sales reps, and you certainly won't get access to budget.