Competitive Enablement
Competitive Product Analysis Template
Many of the so-called competitor product analysis templates on the internet are way too basic for what a product marketer, or competitive intelligence professional needs. Typically they are a simple table to hold one to two bullets points on your competitors' strengths or weaknesses. This sort of template is helpful if you're conducting a competitor analysis for the first time. For most of our clients, however, this just doesn't provide enough depth of analysis to use when building competitive battlecards on product, positioning, or strengths/weaknesses.
How to Use a Competitive Product Analysis Template
To help, we've put together a step-by-step set of instructions on how to use a combination of internal and publicly-available information gathered to compare and analyze your competitor's product against your own.
To illustrate the process, we are using two examples throughout this article. The first "competitor" we'll look at is Okta, a B2B SaaS company in the identity verification sector. The second is Liberty Mutual, an American diversified global insurer. We chose Liberty Mutual as our second example to demonstrate how you can conduct product analysis beyond typical software products.
8 Steps to Conducting a Complete Analysis of your Competitors' Products
1) Use Your Competitor's Product Web Pages For an Understanding of their Offerings
To start, go to your competitor's product page on their website and gather every piece of information you can on their products and features. Try to take note of both the products that they offer and also the value that each of these products adds. Getting a good grasp of your competitor's products is great, but its equally important to recognize the direction they are going with these products.
Without a deeper understanding of value, you'll just have a list of products – which isn't super useful. Each product should be reinforced with further information including a description of your competitor's products, and notes about the marketing material/value statements used on their website, to support these products.
Below is an example of Okta's product offerings pulled directly from their website.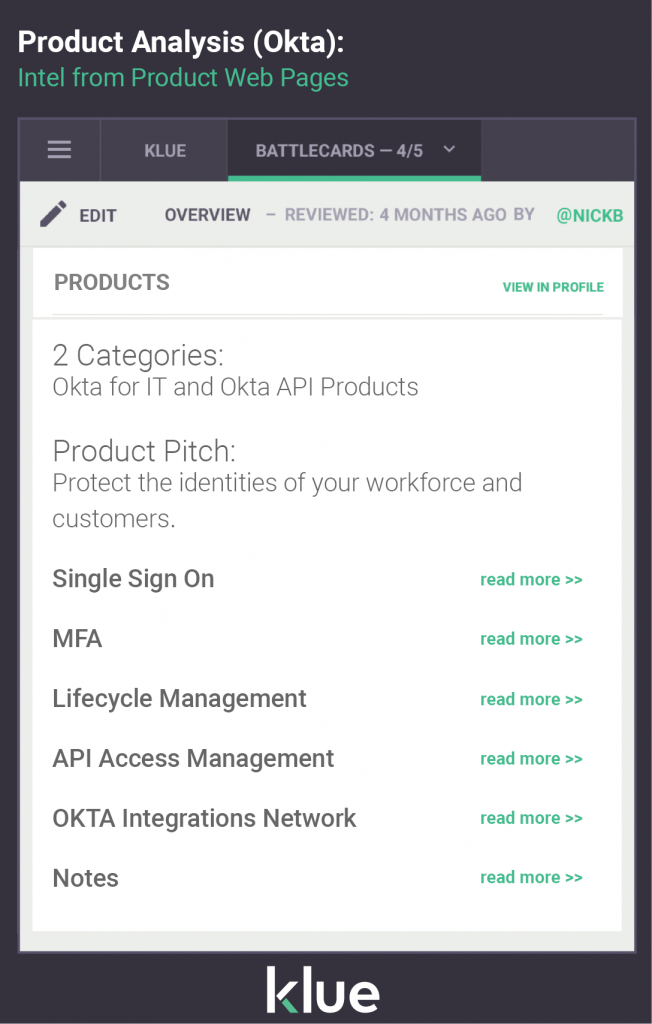 Our second example is for Liberty Mutual's product offerings. As you can see, the information you can gather on the product will vary based on company and industry.
2) Use Analyst Reports to Identify Strengths and Weaknesses In Your Competitor's Product
Analyst reports, like the Gartner magic quadrant, are always insightful and provide a wealth of value in understanding your competitor. However, there is little value in the actual magic quadrant. The real value lies in the rest of the report. Besides just getting a better understanding of the organization, analyst reports can give you insight into your competitor's strengths and weaknesses.
From these reports, (if they are available in the market you compete in) pull out the key points and summarize the analysts' take on your competitors' strengths and weaknesses. Across reports, you may find commonalities. Look for those.
Here is an example of a battlecard built using a Gartner magic quadrant analyst report information on Okta.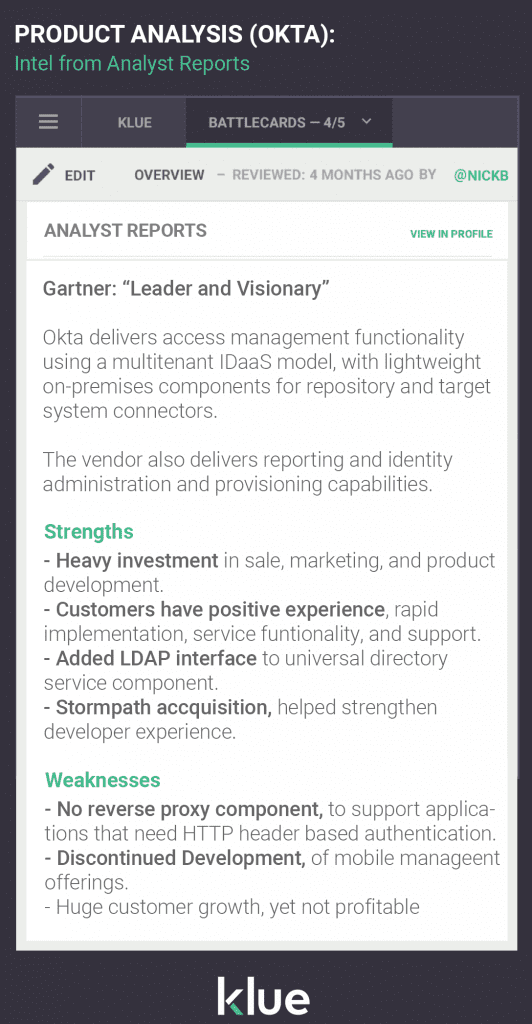 3) Use Other Review Sources to Deepen Your Knowledge of Your Competitors' Products
In industries where analyst reports don't exist, turn to other trusted sources for industry reviews. Market reviews or customer review sites hold a wealth of insight. You can find out how users perceive the strengths and weaknesses of your competitors' products.
For our insurance example, we've used a popular review site to pull out perceived key strengths and weaknesses in their product offerings.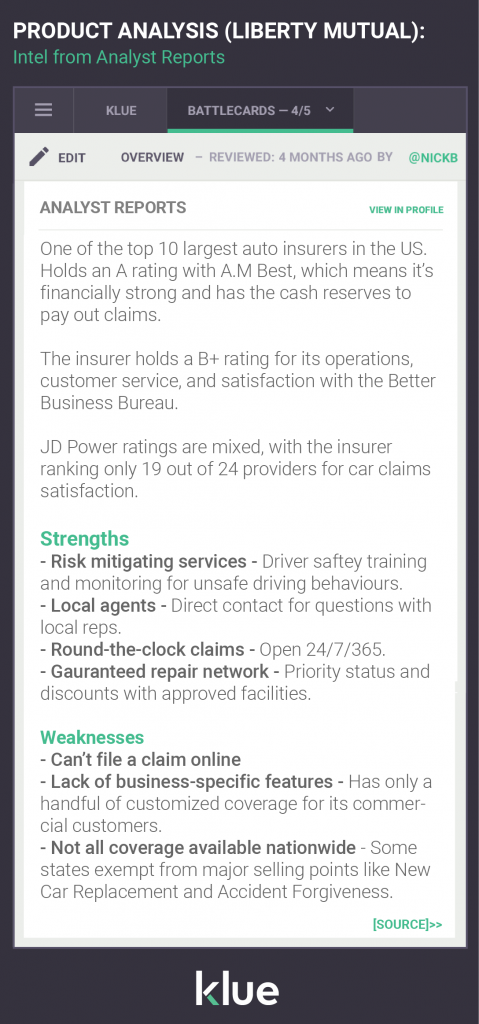 4) Use a Comparables List to Identify Where Your Product Offerings Overlap with Your Competitor
Before trying to get into the nitty-gritty of how your product or service is better than your competitors, first create of list of offerings to identify where you actually compete.
More often than not, companies will only compete directly on a fraction of their total offerings. Instead of wasting time curating compete materials (such as competitive battlecards) on everything, zoom into only the products that challenge yours directly.
Below is a comparable list example for Okta.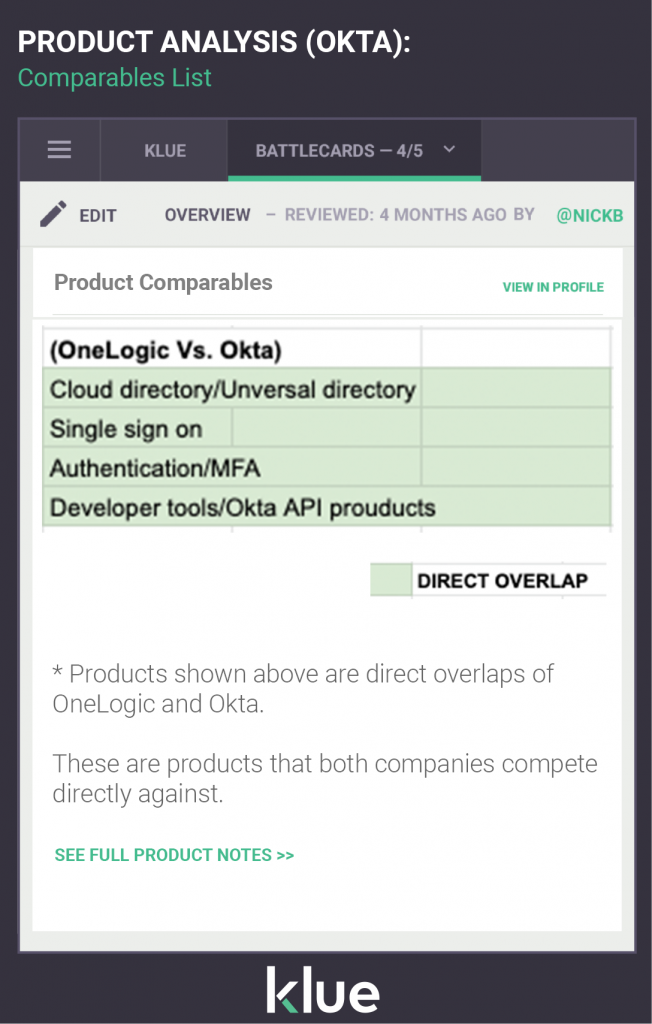 Here is another example for Liberty Mutual.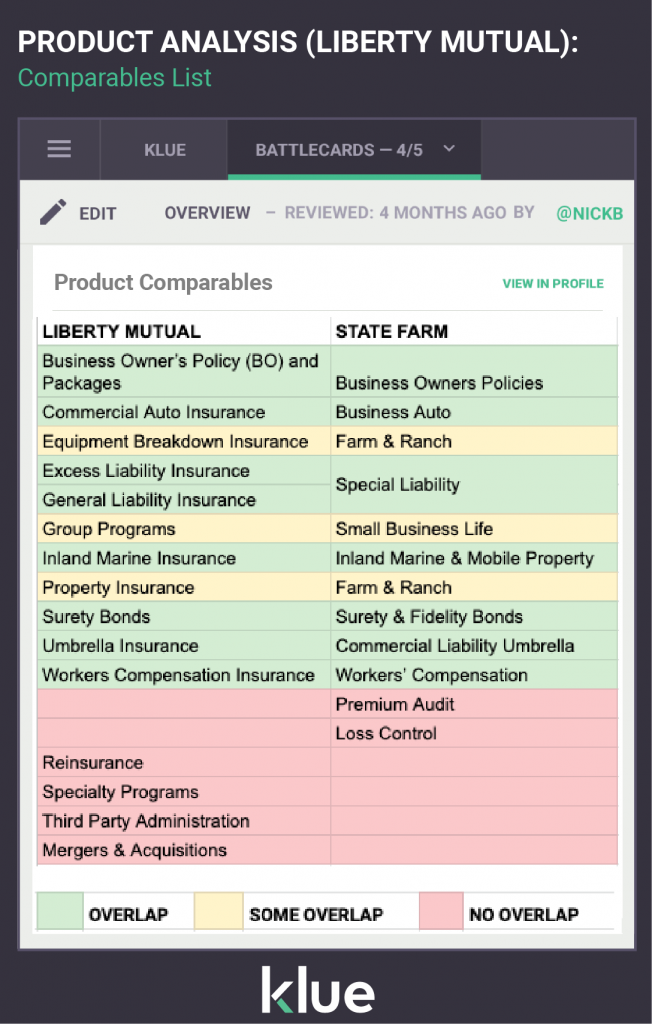 5) Build a Feature List to Understand the Bells and Whistles of Your Competitors' Products
The quickest way to build a feature list is to check out product or review sites like G2 Crowd, Capterra, or Trust Radius.
Feature list information is easy to obtain, but harder to digest and make connections. Once you've obtained a feature list, start breaking down whether or not these features compete directly against your own.
To clarify, a competitive feature is one that both companies battle directly against and are part of their core value proposition. Similar to step #4, you will quickly see that not all features are worth building compete material for.
Here is an example of a competitive feature battlecard built off of information found on G2 Crowd.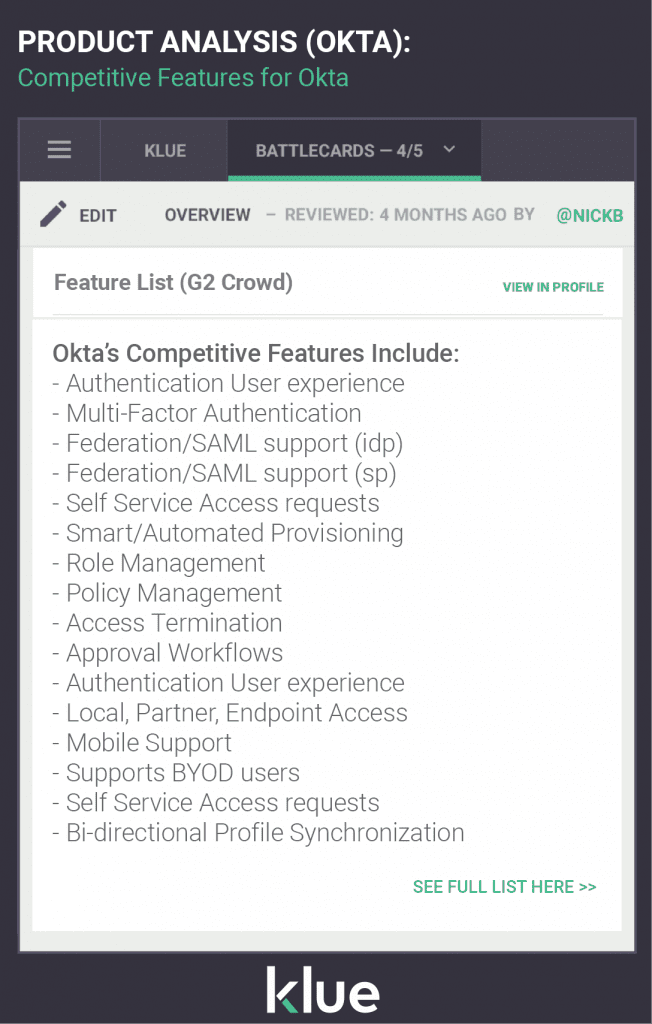 Here is an example of a competitive feature battlecard done for the insurance industry.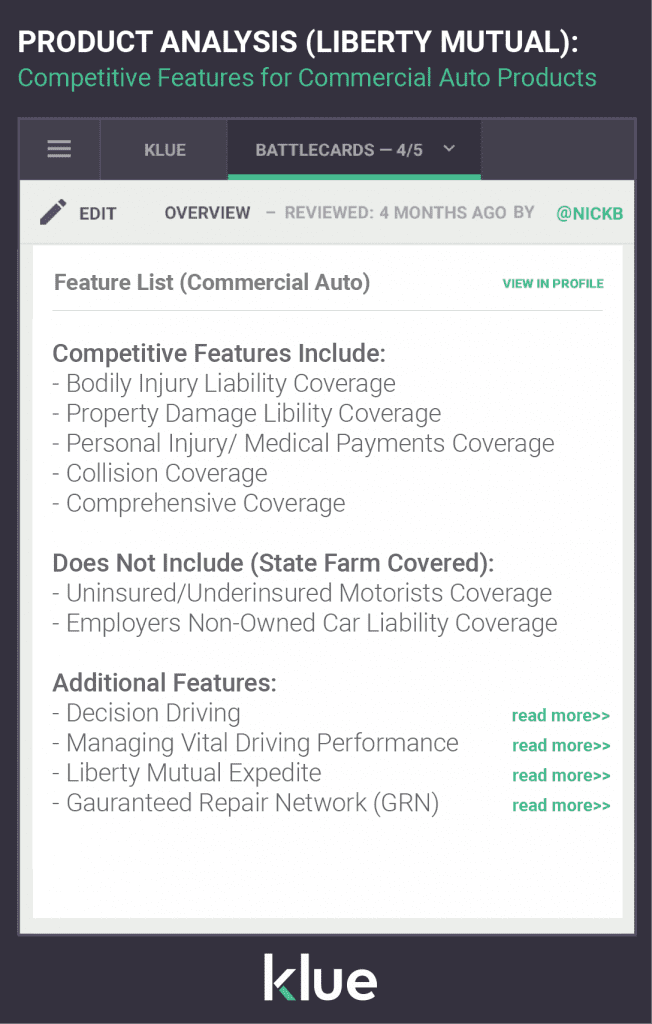 6) Search for Demo and Product Videos Available Online
The quickest way to get a basic understanding of any product is to watch a demo video. Often companies will share pre-recorded demos on their homepage, or product page, that can be easily accessed. Others like Marketo require you to submit a demo request form before you can access content, or see a product demo from a sales rep. Some companies like Sprout Social even share this material via YouTube. You'd be surprised by what you can find if you just go looking for it!
Adding links, video screenshots, and description text, like in the example below for Okta, will help give your consumers a quick overview of what the intel is about.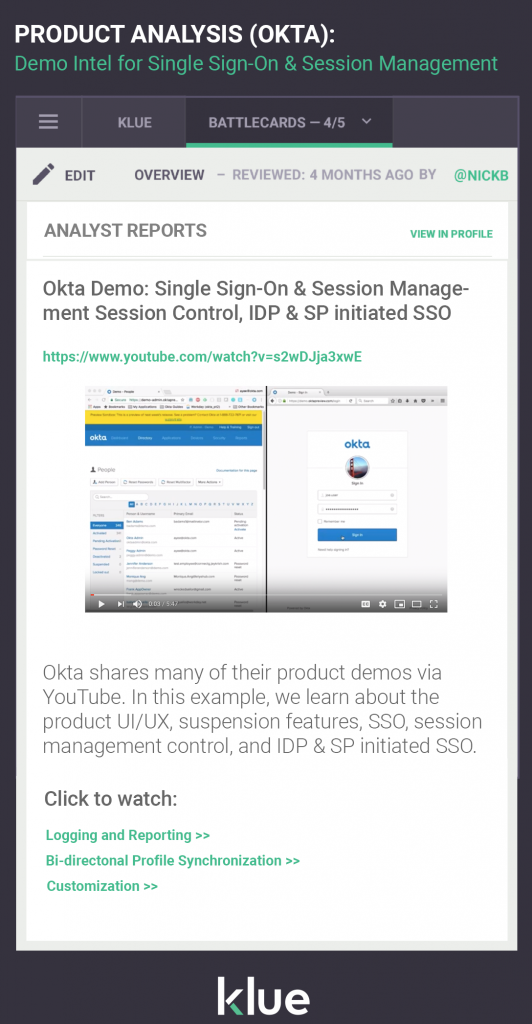 Below is a secondary demo intel battlecard example for the insurance industry.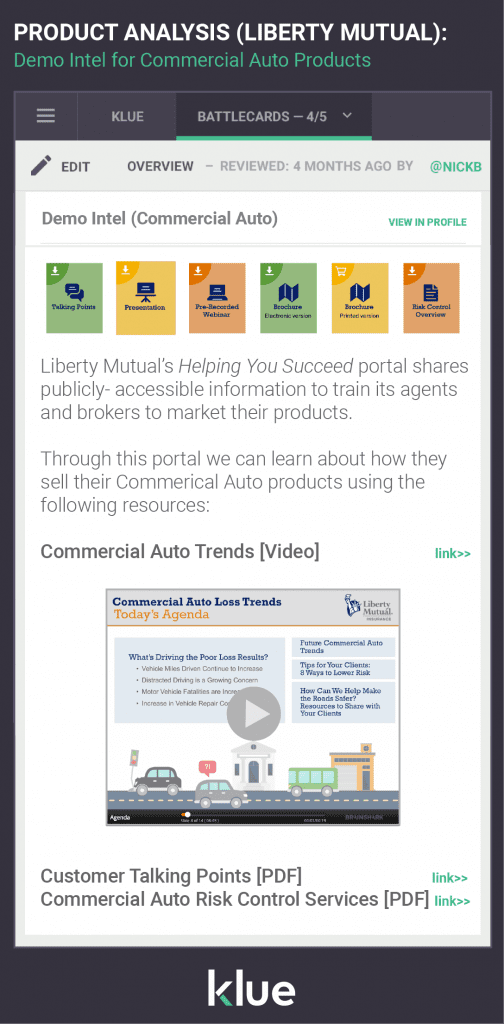 7) Google Search for PDF
If you are dealing with competitors who are selling to large public organizations, you're in luck! Many of these organizations are required to share details regarding the purchase of any product or marketing tool with the public. The most common file format to find this juicy information is a PDF.
With a quick Advanced Google search, you are likely to uncover insightful intel on your competitors including key clients they may have, that will not be anywhere else on the web.
Here is an example of how to perform an Advanced Google Search for PDF.
1. Once in Google click on "Settings" and scroll down to select "Advanced Search".

2. Filter down your PDF search by filling in any relevant search terms. We suggest using the "all these words", "exact word or phrase" and "any of these words" search box.

3. Once you have set parameters for your Advanced Google Search, scroll down the page to select to "file type" Choose "Adobe Acrobat PDF as your preferred format.

For Okta, we were able to easily find PDF documents on everything from product overviews, to marketing material.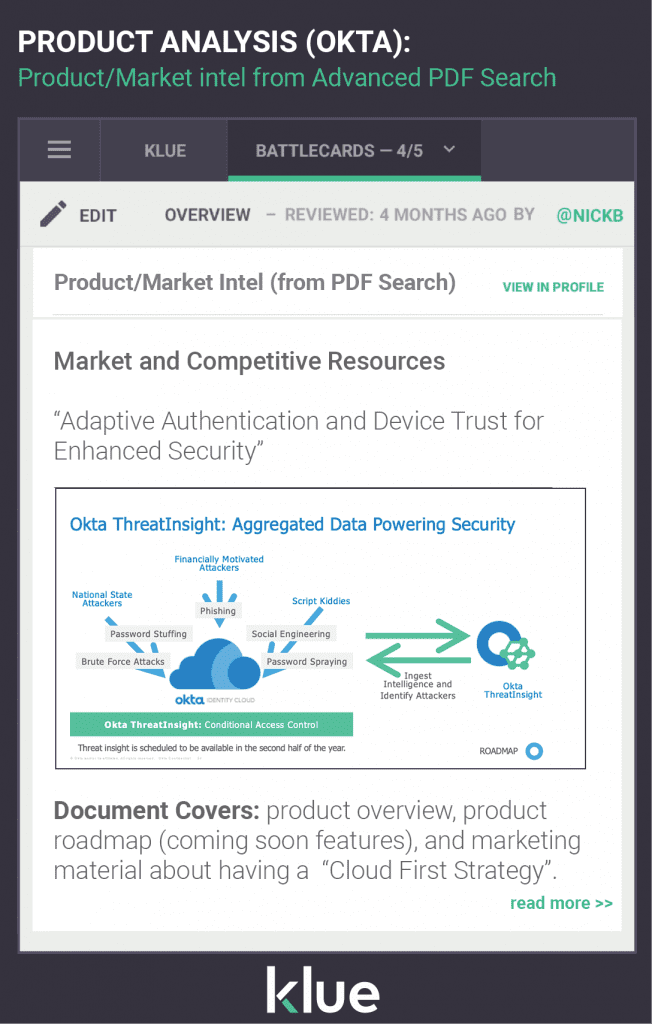 For Liberty Mutual, we were able to access marketing collateral on their commercial products including talking points to use in customer conversations.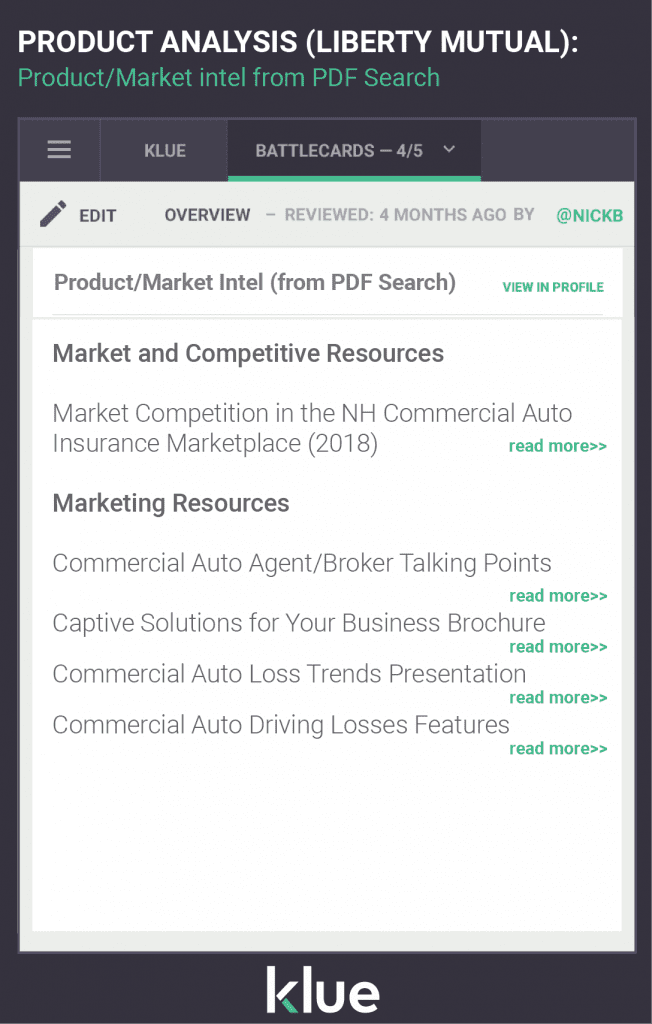 8) Win-Loss Analysis Tells You Where Your Competitors' Products Win
Finally, tap into your win-loss data to get insights into how your products fair in competition with your competitors. Sifting through win-loss notes will require you to think through which statements are a customer perception, vs reality in the difference of your products, so this is a nuanced exercise.
A best practice in how to glean insights is to look for commonalities or themes across multiple win-loss interviews. After reading each interview, answer the four following questions:
What was the prospect's pain?
What was their reason for choosing the competitor?
What did that competitor say about us?
What are the prospect's concerns with the competitors' product they've chosen?
Identifying the prospect's pain will allow you to segment groups of users with common pains. Different pains will often correlate to what parts of a solution they value the most. By doing this you can identify which prospects you win with vs where you lose.
Understanding the reason they chose the competitor is helpful to learn where your sales process or product fell short. The challenge is identifying which of these two is the real issue.
Summary of Competitive Product Analysis Template
Knowing what your competitors are saying about you is critical to identifying the lens through which your prospects are viewing your product. Do you really fall short in a certain area, or is their sales team just effectively de-positioning you before you enter the conversation? Similar to the previous question, you're trying to understand where your competitors are successfully influencing perceptions about your product, however true they may be.
—
Now that you've completed your competitive product analysis, you're well on your way to completing your competitor analysis to use in building competitive sales battlecards.