Battlecards
Sales Battlecard Content Framework: Principles for Building your Content
Sales battlecards (also called competitive battlecards) are sales reps' best chance to win when up against a competitor in a sales deal. But, for a sales rep to use them, battlecards have to be built in a way so that they are seen as valuable. And, maintained with fresh content to ensure they are accurate. So, then how do you create battlecards your sales reps will love and use? Here's a super theoretical sales battlecard content framework that will get you started. 
Sales Battlecard Content Framework
Let's get the obvious stuff out of the way first:
Your battlecards need to be up-to-date
What you don't want? For your reps to say something about a competitor only to have the prospect tell them that their intel is six months out-of-date. Ouch! 
Out-of-date content destroys the trust between the prospect and your sales rep. That's not something that is easy to recover from. Additionally, it erodes the trust your sales rep has in your ability to provide useful compete materials. Reps don't like to feel embarrassed or caught off guard. If there is out-of-date intel in your battlecards, reps aren't likely to use them again.  

Everything you provide needs to be digestible
Keep the content on your battlecards clear and concise. Sales reps simply don't have time to dig anything out. They are often accessing the battlecards either three minutes before or during a phone with a prospect. In fact, I've spoken to customers who have said that their reps sometimes read the content on the battlecards verbatim while on a call with a prospect. So the content needs to be super easy to read. 
Sales battlecard content needs to be true… sort of
But what I really mean is that your sales team needs to KNOW where it lies on the truth scale. This means showing them where the intel came from and how reliable it is. You can share rumors and innuendo… teams do that all the time… but differentiate the unsubstantiated claims from third-party validated claims — especially for unsubstantiated claims, how to properly use it!
Make your competitive content easy to find
Put it where your salespeople are already. Don't make them look for it… most won't. 
Stages of the sales conversation
Now that we have the basics out of the way, let's think about what reps need to achieve at various stages of the sales conversation: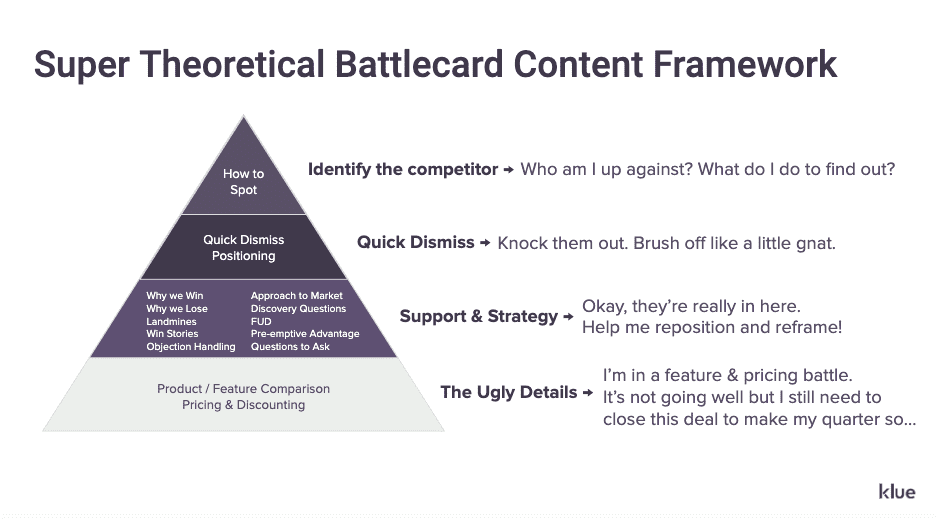 Identify the Competitor
First, the sales rep needs to identify whether there are competitors in their deal. Then, they need specific questions to identify one competitor versus another. It might sound like a Captain Obvious moment here, but the impact is huge. Learn more about the Identify a Competitor battlecard. 
Spotlight: Social media management platform, Hootsuite, found a 12% lift in win rates when they had clearly identified the competition in play as compared to when they had not.
Quick Dismiss
Then, when the customer brings up a competitor, the sales rep will need to quickly brush them off and move the conversation back to what matters — the customer's needs.
Support and Strategy
As the sales rep moves deeper into the buying process with the prospect, they will need to be prepared to de-position or reframe anything and everything your competition may have said about you.
In theory, reps should be stepping through this to get more and more competitive information and messaging as they progress. 
In practice, especially when battlecards are in slide decks, well, it's a different story. 
Attack and Defend Sales Battlecard

Questions to answer when building out your sales battlecards
Think about battlecards as entry points for your sales reps. It is about providing the supporting content to help reps answer five key questions:
Tips to Get Sales Reps to Use Your Battlecards
Think like a product marketer (PMM) 
Get crystal clear on the target audience for the specific piece of content — reps or customers — and listen to their needs. And, don't go it alone; use the "help me help you" mentality. Leverage your relationships with sales leadership, after all, it's their commission on the line.
Think like a marketer  
Treat your reps as customers. Think about their journey like you would the customer journey: simple, concise, targeted messaging at every stage of their journey. Intentionally build your content to get them curious to click through and eventually peel back the layers. Like in demand generation, it may take multiple attempts to reach your target audience before they convert. There is no such thing as overcommunication when it comes to reminding sales about your compete materials. 
Now that you have the essentials of a Sales Battlecard Content Framework, go ahead and start putting them together. Remember, battlecard content is not written in stone. You will be updating it regularly, and ideally engaging your team to help you with intel-gathering if your battlecards are dynamic.