Battlecards
8 Essential Sales Battlecards You Need to Know
The importance of competitive intelligence is increasing rapidly. As stated in a recent Forbes article on Competitive Intelligence and Analysis in 2020, "The key is to identify challenges, advantages and white spaces to build a strategy that creates competitive differentiation."
A comprehensive competitive intelligence strategy always includes sales battlecards as a tactic. But getting started with sales battlecards can seem daunting. Whether you are at the planning stage, the initial build, or refreshing your existing sales battlecards, you likely have a bunch of questions. What information do you want to include? In what situations should reps use which cards? How do you get reps to use the battlecards you create? In this article, I will answer those questions plus give you our recommended top 8 essential sales battlecards to include in your arsenal. 
5 Key Questions Your Sales Battlecards Should Answer
The purpose of sales battlecards is to give Sales a leg up over the competition. So, you must think like your reps when planning the content to include on your sales battlecards. How? By keeping in mind these 5 key questions that you should be answering: 
How do I spot this competitor in a deal? (

how to spot them

)

In what ways do we differentiate from this competitor? (quick dismiss)

Best ways to attack? (

offensive strategies)

When and how should I defend? (

defensive strategies

)

In what ways do they approach the market? (

facts

)
Top 8 Essential Sales Battlecards

to Include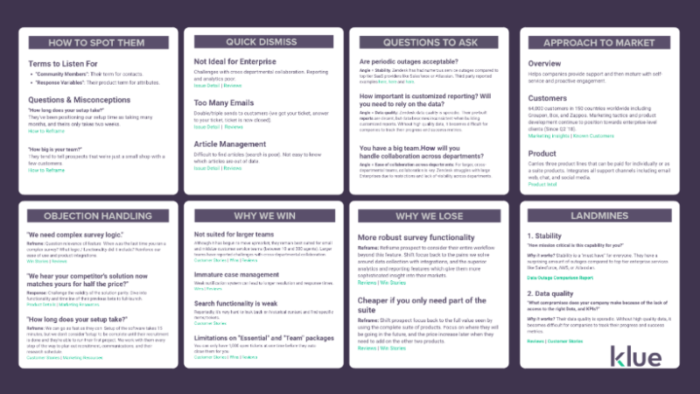 There are many variations you can use, but these 8 sales battlecards are a good starting point to cover the essentials for any competitor.
How to Spot a Competitor

Battlecard
Starting at the top of our Super Theoretical Battlecard pyramid, the How to Spot a Competitor card provides sales with what we know about how to spot each competitor. This can be the way they talk about specific capabilities. You may know your competitor is already in a deal if the prospect is using their terms. Or it can be specific questions that your competitors have seeded your prospects with.
Quick Dismiss

Battlecard
The Quick Dismiss card is used to de-position your competitor in early conversations with a prospect. It contains a few brief statements about your competitor that will shape the lens from which your prospect sees both you and your competition. The intent is to plant the seed that you are the better option due to something that will be of concern to the prospect. 
To build a Quick Dismiss Battlecard, start with a broad, high-level statement about how your company and your competitor took different approaches to solve the same problem.
Then, support that statement with two key points about where the two companies were differentiated. Still broad and not talking about specific features.
Finally, wrap-up and summarize again, reinforcing that high-level statement. 
Why is the Quick Dismiss approach effective? It's made memorable by repeating a simple and concise point of view. And by staying high-level it's easier to understand how your company/product is different overall.
Questions to Ask

Battlecard
The Questions to Ask card is used both for information gathering and for de-positioning your competitor. Questions should include ones that would help the rep discover less obvious information that the prospect might not otherwise disclose. Or questions that would expose your competitors' weaknesses. 
If you know you shine in the area of reporting and your competitor does not, you could ask, "How important is customized reporting?" A question like this actually helps you to understand the needs of your prospect in more detail, while also creating an opportunity to demonstrate where you are stronger than a competitor.
Landmines to Lay

Battlecard
The landmines to lay card is used to plant a seed of doubt into the mind of your prospect about choosing a competitor's solution. This is done by asking specific questions or mentioning key points where you know their solution won't match up with yours. 
Objection Handling

Battlecard
The main point of the objection handling card is to give salespeople a way to respond to the most common objections they can expect to hear when going up against that competitor. This card is different from the rest in that we're going to give them talking points rather than the exact words to say.
Why We Win

Battlecard
Use the Why they Win card to help reps position you to leverage your biggest strengths while de-positioning your competition. Even if the competitor has been identified early in the deal, and your rep has used their Quick Dismiss, there's more work to be done. Your reps will want to go on the offensive to prevent the competitor from getting deeper. 
Why We Lose

Battlecard
Just like the Why We Win card focusses on your strengths, Why We Lose focuses on your weaknesses… and your competitor's strengths. The goal with this is to reshape your rep's thinking around a broader challenge that their prospect might not have thought about yet. And more importantly, provide them with evidence that you can win despite your competitor's strengths.
Approach to Market

Battlecard
The approach to market card lays out the go-to-market strategy of your competitor. An example would be if they consistently discount prices and undercut your product offering to win deals. Knowing that would definitely help you decide your approach with a prospect. The card doesn't have to include everything your competitor does but the top two or three tactics that have created challenges for your sales reps repeatedly will help them go in stronger. 
These are the 8 essential and most popular sales battlecards that we most often see included, but there are no hard and fast rules. You are the expert on your business and your market so you need to decide which information will be most useful. It is very important to plan your battlecards so that Sales gets the competitive intel they actually need. However, don't get too hung up in this stage at the expense of execution. Remember that battlecards are meant to be living documents so you will be going back to update refresh and iterate constantly based on feedback from your team in the field.