Battlecards
Competitive Battlecards 101: How to Spot a Competitor Battlecard Template
We're in week twelve of our Competitive Battlecard 101 series and this week we're featuring the How to Spot a Competitor Battlecard.
If you haven't yet, subscribe to the series and we'll send you a new competitive sales battlecard templates straight to your inbox (weekly-ish). Or, if you want to go through the previous sales battlecards we've built to date, you can find a running log of sales battlecard articles here.
The "How to Spot a Competitor" Battlecard
The purpose of the "How to Spot a Competitor" sales battlecard is to set your sales reps up with strategies and tools to identify which competitors are in a deal early in the sales cycle. Knowing which competitors are being evaluated early on allows your reps to use tactics from the Pre-emptive Advantage battlecard, the Landmines to Lay battlecard, and the Positioning battlecard to deposition them.
Identifying competitors also allows reps to do their research into your track record against a competitor, and come to calls prepared to handle expected objections and with specific questions to ask to deposition competitors.
Looking for more tips and templates for your competitive battlecards? Check out our Competitive Sales Battlecards 101 guide.
Why This Battlecard is Important
Every salesperson can attest to that defeating, lump-in-your-throat moment when they realize a competitor is in the deal and might be edging you out. To make matters worse, often you realize a competitor is involved too late in the sales cycle, making it difficult to recover.
The goal of the "How to Spot a Competitor" sales battlecard is to prevent the above scenario from happening, by setting your Sales Team up with key identifiers and tools to enable them to discover who's in a deal as early as possible. By identifying competitors early on, the rest of your competitive battlecard strategies can be used during the interest/evaluation stages of the sales cycle. If competitors are being identified in later stages, reps will have a much harder time steering the conversation.
Building the How to Spot a Competitor Battlecard
The "How to Spot a Competitor" battlecard is broken down into two easily digested sections. The first is how to identify competitors using lingo and terminology unique to how a competitor describes their solution. The second covers ways to identify a competitor based on what they commonly say about themselves and about you. You'll want to prepare your reps to be listening for both types of clues and to recreate this sales battlecard for each of your main competitors.
Section 1: Common Terminology
The core focus of this first section is to identify the lingo and terminology that is frequently used by your competitor. Ideally, these keywords will be unique to your competitor and can often be found on their website, collateral, or pitch. You can do the marketing analysis on your own but to get insights about their pitch you will likely have to seek out sales reps to understand what tribal knowledge they hold about how your competitors position themselves in the market.
Often times, competitors have terms they commonly use related to the market or industry they work in.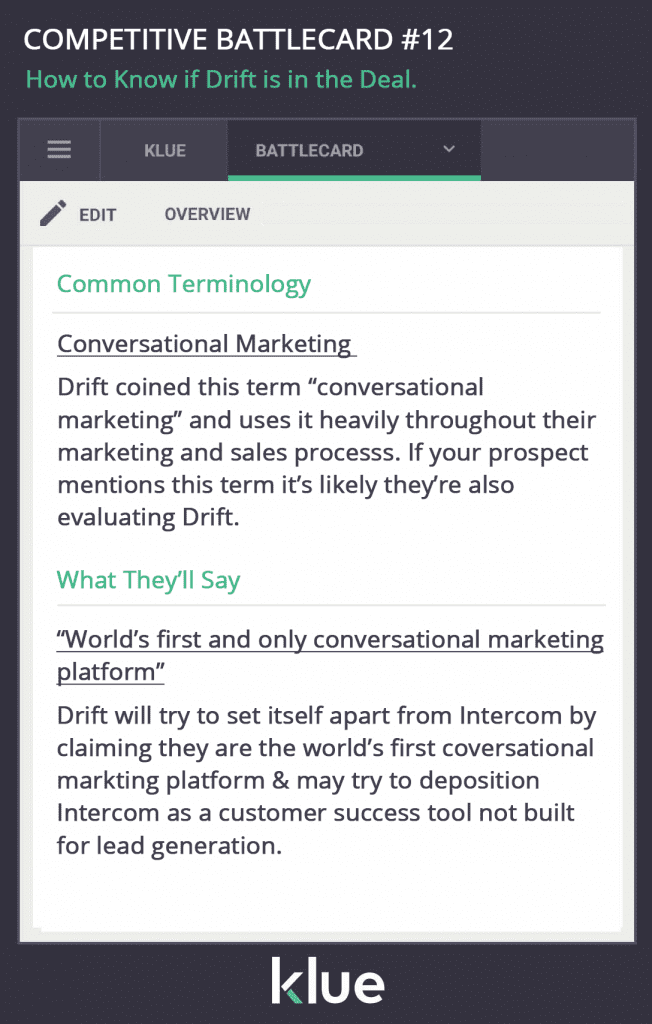 Example:
Company: Drift – Conversational marketing
Terminology: Drift coined the term "conversational marketing" and has built an entire brand and solution behind the idea that using a chat tool on marketing websites is a new channel to reach and communicate with potential customers. Though they have many competitors in their space including companies such as Intercom and Comm100, these competitors don't use the term widely across their marketing materials, likely because Drift has attached itself so firmly to that term.
If you were a sales rep for Intercom or Comm100 and your prospect was using the term "conversational marketing" when discussing your solution, it would be a very indicator that they were also evaluating Drift.
Word of Caution
The "How to Spot a Competitor" sales battlecard template cannot 100% guarantee that a competitor is in the deal, as certain terminology and lingo is recycled across an industry. Instead, this battlecard (with some critical thinking) can help your sales team narrow down which competitors are involved.
Early competitor identification will increase your chances of de-positioning any competitor.
Section 2: What They'll Say About You
This section of your "How to Spot a Competitor" battlecard template will include specific phrases that your competitor will frequently feed prospects about your solution as they attempt to deposition you. To build this section of your battlecard you will need to go directly to your Sales team. They will tell you how competitors are talking about your products. Their prospects are coming into calls with preconceived beliefs about what your solution does and doesn't do.
You'll want to identify clues for your sales rep to be on the lookout for. Look for common phrases a prospect will say that gives clues they are viewing your product from the lens of a competitor. Do they make remarks about where your solution falls short? Do they focus on certain areas of weakness that you know one competitor will usually use to deposition you in a deal? As before, these aren't facts but breadcrumbs of information that might indicate they've already started evaluating a competitor's product.
Example:
Competitor: Slack
What They'll Say: Streamlines your work with integrated tools.
If you were a sales rep for one of Slack's competitors and were to hear your prospect focusing heavily on integrations as a key feature for their solution set, you would have a very strong inclination that Slack is in the deal because they leverage their broad library of integrations as a key differentiator in their market.
Further Reading on Sales Battlecards
If you've come this far and you're still looking for more on battlecards, download our Competitive Sales Battlecards 101 Ebook.