Competitive Enablement
Competitive Intelligence Metrics: A Dashboard to Track your KPIs
When it comes to measuring the ROI of your competitive intelligence content how do you fair? Do you know how much revenue your sales battlecards influence?
You need to, and so does your executive team. Unfortunately for both yourself and your executives, very few product marketing or competitive intelligence teams report on KPIs and fail to directly quantify the impact they have on revenue.
Fortunately, with just a few key numbers you can start to measure the ROI of your competitive enablement materials. Not only is this important for building the authority of your team, but also to get visibility into where to improve your efforts.
Three Metrics to Measure the Impact of Your Competitive Content (Sales Battlecards)
In a previous article (here) we shared a comprehensive list of the measures you can use to track the performance of your competitive intelligence program. Tracking all of these measures will take considerable resources, which you might not have an abundance of. Instead, start with the basics. A condensed set of three simple metrics which will give you a rough idea of the impact of your sales battlecards. For each competitor, you need to measure the following:
Total number of battlecard/competitive content views
Total number of sales' requests for help
Total value of deals influenced
How to Analyze Your Competitive Intelligence Program
What "Views" Metrics Tell You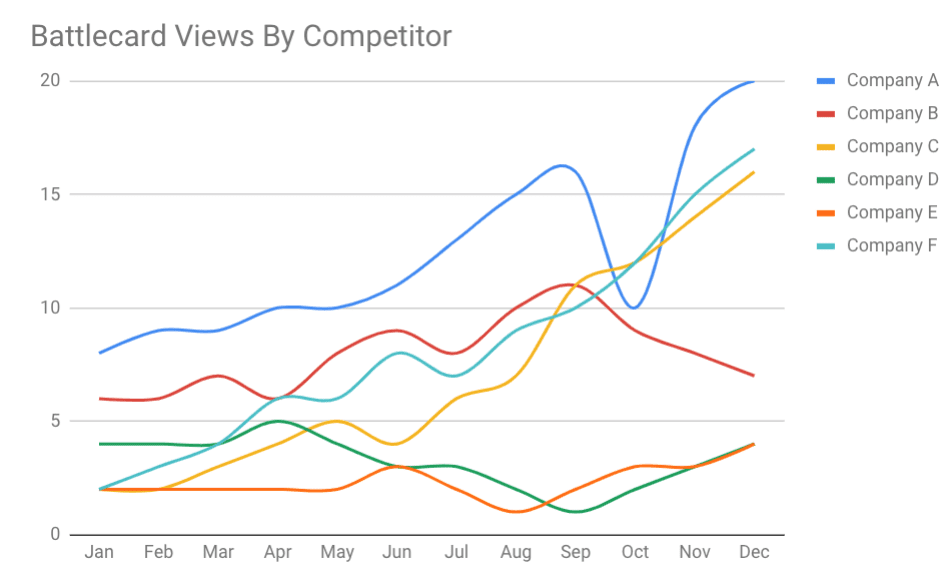 Views tell you how often your competitive content is being viewed for each competitor.
Look at the total number of views per competitor to see which competitors are coming up the most frequently in deals.
The competitors with the highest number of views can be an indication of who your sales reps come up against the most, or who they feel least equipped to sell against.
If the competitor with the highest number of views is not who you expect it to be, you need to determine why your reps are seeking this content. Are they struggling to beat them and need more sales coaching? Does your marketing team need to provide more support materials during the sales cycle? Understanding the 'why' is equally as important as the 'who' when supporting sales with competitive intelligence.
Trends with "Views"
Seeing the number of views go up across all competitor battlecards could be an indication that sales reps see value in your content or that your market is becoming more competitive, or your buyers' more educated on their alternative solutions.
The number of views increasing for an individual competitor over time can mean they are becoming a more credible competitive threat. Keep executive and sales leadership aware of these changes to maintain visibility and prioritize the development of more competitive enablement materials for the competitors that demonstrate this trend.
What do "Requests For Help" Metrics Tell You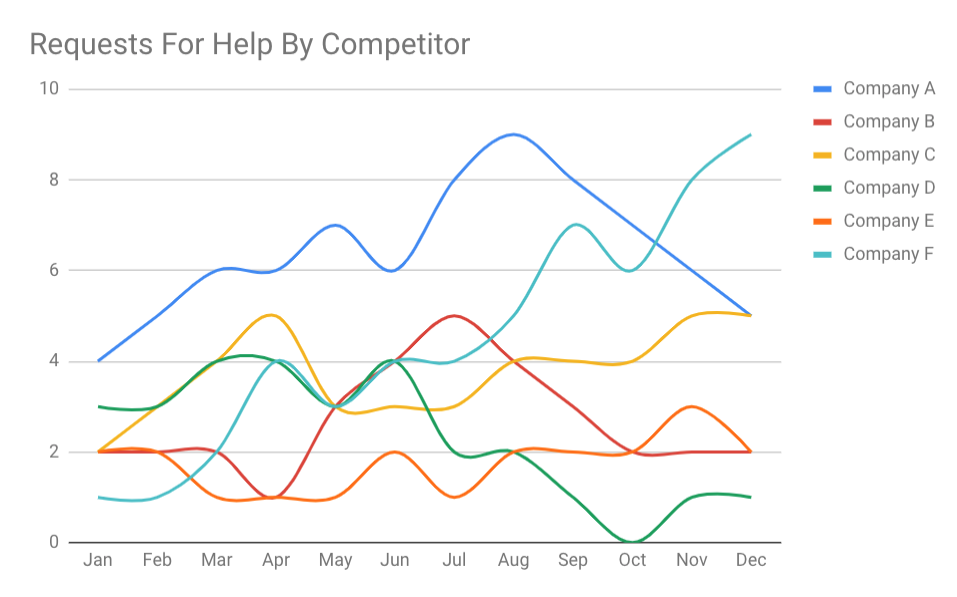 "Requests for help" tell you the number of times you or your competitive team were asked to provide support in a deal.
Similar to "Views", the total number of views will show you at-a-glance which competitors are the most-often faced across all deals.
Facing a high number of requests on a certain competitor could also be an indicator that the marketing/support materials you have built to date aren't meeting the needs of your reps in the sales cycle.
Trends with "Requests for Help"
A decreasing number of sales requests – Requests going down is not necessarily a bad thing, provided your self serve solution is working or your team is more informed. If you see requests going down, but "Views" going up, or win rate against that competitor staying the same/increasing, these can be indicators that the compete materials you've built are effective in pushing deals to close.
An increasing number of sales requests – Your reps are facing off against these competitors more often. If you don't have a lot of content on these competitors, this intel can be a good indicator that you should spend some time building up your competitive content. Make sure to identify what the reps need in order to get them to use the new competitive content you create.
What "Deals Influenced" Metrics Tell You
The value of deals influenced is where you can finally connect your work with real revenue. This is where you can demonstrate to leadership the value that sales reps derive from your competitive content, and the value your function brings to the organization.
What you want to see here is that a competitor with an increasing number of views is correlated to an increasing value of revenue influenced. It's critical to track the trends of this metric over time to derive real insights.
Frequency of Reporting
Capture these three metrics monthly so you can track trends and make adjustments to content priorities as needed. As for reporting out to leadership and executive teams, it can vary but quarterly reporting is a standard frequency for most teams.
Download The Starter Dashboard Template

Start tracking the performance of your competitive intelligence program by downloading the Competitive Intelligence Metrics Dashboard we've built just for you. It includes a monthly tracking template as well a dashboard for executive reporting to give you visibility into the ROI of your sales battlecards. You can download it here. Tracking the performance of your competitive intelligence KPIs is also critical to start building benchmarks for your competitive program so that you can continue to improve, and measure that improvement over time.
What's Next?
If you've found yourself at the end of this article, then you're looking to level-up your skills in competitive strategy. Heck yes. That gets us riled.
We've created a content series on How To Build a Competitive Intelligence Program to help people just like you to continue to build their knowledge base in competitive and market intelligence. We try to focus on only high-value content with practical advice that you can implement easily into your practice. Subscribe to the series and check out our full library of resources here.