For nearly six years, I led competitive and core product marketing at Hootsuite. With a front-row seat in the ever-expanding and contracting martech space, one thing became abundantly clear: relying solely on product differentiation is not a winning strategy.  This is where competitive enablement comes in and the reason I joined Klue.
Beyond Product Differentiation
Sure, there's plenty of product innovation to be had. However, product differentiation (or more accurately, feature-based differentiation), on its own, has become indefensible. The competition can copy your better, faster, cheaper features nearly instantly.
By and large, success today demands differentiation through relevant and targeted combinations of differentiation that cannot be easily copied by the competition. These differentiations can come from innovations in product, IP, business model, licensing and pricing strategies, technology and go-to-market partnerships, and customer (I.e. user, buyer, support) experiences.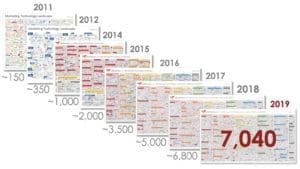 Put simply, winning businesses have figured out how to make differentiation a team sport. They are thinking and acting differently as an organization in the eyes of their customers.
Think Differently
The vast majority of the product marketers (and product managers) I've talked to over the years expressed high degrees of anxiety when the conversation turns to the competition. Questions like: What do they have? What are their strengths and weaknesses? What are they planning, what are they saying, what are customers saying?
"We're drowning in data and starving for insights." – Cinny Little, Forrester Research at Competitive Marketing Summit 2019
Today's millennial workforce is driving their companies and themselves to brand themselves through online content sharing. Hundreds of millions of public signals pour out daily in the form of tweets, research reports, blog posts, help articles, customer reviews, and even employee reviews. Heck, Twitter alone serves 500M public signals daily to consume and sort through.
Many of us have also recognized that vast amounts of competitive intel are buried in plain sight inside the organization. Evernote, Slack, Teams, Workplace, on Google Drive, Box, Dropbox, or any number of shared documents or team collaboration tools house valuable information.
AI to the Rescue?
So, if you're like me five years ago, you would be looking for an AI tool with NLP and machine learning smarts. The reason? To help create a CI system of record that automatically connects the outside with the inside under the simple, "What? So What? Now What?" framework to turn raw intel into actionable insights.
Here's what I've realized — it won't be enough. 
AI is an equalizer, not the savior. At some point, you and I will have access to the same level of AI-generated insights about that competition. At that time, it'll be a race to the bottom for AI to get more intel sources and generate more insights in order to get a competitive edge. Today's massive data silos will simply evolve into tomorrow's massive insights silos and I predict we'll be drowning in insights and starving for actions in the not-too-distant future.
Act Differently
To accelerate growth, product marketers need to take a leading role in making differentiation a team sport across the business.
It starts by moving the focus beyond insight-generation to impact-focused actions.
It requires product marketers, CI pros, and anyone else responsible for sales enablement to methodically empower the entire organization with compete insights and connected actions to scale differentiation and drive measurable impact on business growth.
If AI is a great equalizer, then Competitive Enablement is the great multiplier.
Dataset-of-One to Dataset-of-Many
I saw this first-hand during my time at Hootsuite. In 2018, we saw a 12-point improvement in competitive win-rates with sales reps who had used Klue's compete content compared to those who had not. We also saw material sales velocity improvements, shortening days-to-close by an incredible 20 days.
Yes, this is a correlative A/B comparison, a dataset of one, your mileage may vary, and all that.
This is why I'm super excited to join Klue to head up Product Marketing and work with fellow product marketers and CI pros to help solve this complex (yet simple) compete problem… and build out a dataset of many.
This webinar with Klue's CEO Jason Smith is from before I joined Klue. I think you'll find useful insights from a Product Marketer's perspective.