Competitive Battlecards 101: Product Overview Battlecard Template
March 22, 2018 by Katie Berg
We're in Week 4 of our Competitive Battlecard 101 series and this week's featured card is the Product Overview battlecard. If you haven't yet, subscribe to our newsletter and we'll send you a new battlecard straight to your inbox each week. If you want to go through all of the cards we've built to date, you can find a running log of all of these battlecard articles on our intro post to the series here.
The Product Overview Battlecard
The product overview battlecard is fundamental to any sales playbook/battlecard deck. There isn't really a situation where you would choose not to build this card. If your competitor has a product or service offering, you need to know about it. That's what the product overview battlecard is for.
There is however, one additional opportunity in using this card. When it comes to the sales content people look at – this is probably one of the most viewed cards. Up there with pricing. You're faced with two ways to approach this card. Option one is to simply input the details on the full product suite offered by your competitor. The alternative is to take advantage of the number of views this card will get and use it to reinforce positioning messaging against your competitor.
To build this battlecard you're going to gather a list of the full suite of products offered by your competitor with a short description of each product. A brief description should give your sales person an understanding of what the product/service is, and a quick understanding of how the competitor positions this product in the market. What you don't want to do is build this as a sales-facing product or feature comparison card. You don't want to get into feature battles in deals. You want to sell on value. A product comparison chart might, however, be valuable to your product/marketing teams (good article on that here) but as it pertains to sales; if you've found yourself in a battle over feature there might be a deeper issue that the core value of your solution hasn't been clearly articulated or that you're not talking to the right target.
How to Build the Product Overview Battlecard:
Conduct research into your competitor's products. This isn't an easy build, only because it can be difficult to understand the specifics of a product when you only have access to publicly available information and need to decipher their marketing language to understand what your competitor is actually talking about.
Your objectives are to:
Step 1: Compile the full list of products offered by your competitor
Step 2: Synthesize as much as you can from websites, G2 Crowd and other review sites.
Step 3: Figure out what the product is after stripping away all of the marketing jargon.
This makes up the skeleton for your data. You have a basic understanding of your competitor's product offerings based on information you were able to find across various public channels.
Understand Your Competitor's Product Positioning Strategy
To compare, you want to understand how both your and your competitor's products fit into the ecosystem. Do you overlap in customer group or is there secondary or tertiary customer overlap? This will influence how you look at different areas of their product. By adding strengths and weaknesses directly into the product overview battlecard, you can expose the customer groups where the product won't be a fit. In the end, the majority of this card is built by amassing intel on your competitor's products, but it really requires an understanding your positioning strategy to make an effective tool in closing deals.
Next up in Competitive Battlecards 101
The Approach-to-Market card is part of our Overview Battlecard Template (click the image below to expand), which is a set of eight of the most commonly used cards we've seen across hundreds of battlecards. We'll cover  these cards one by one before moving on to the next full battlecard template.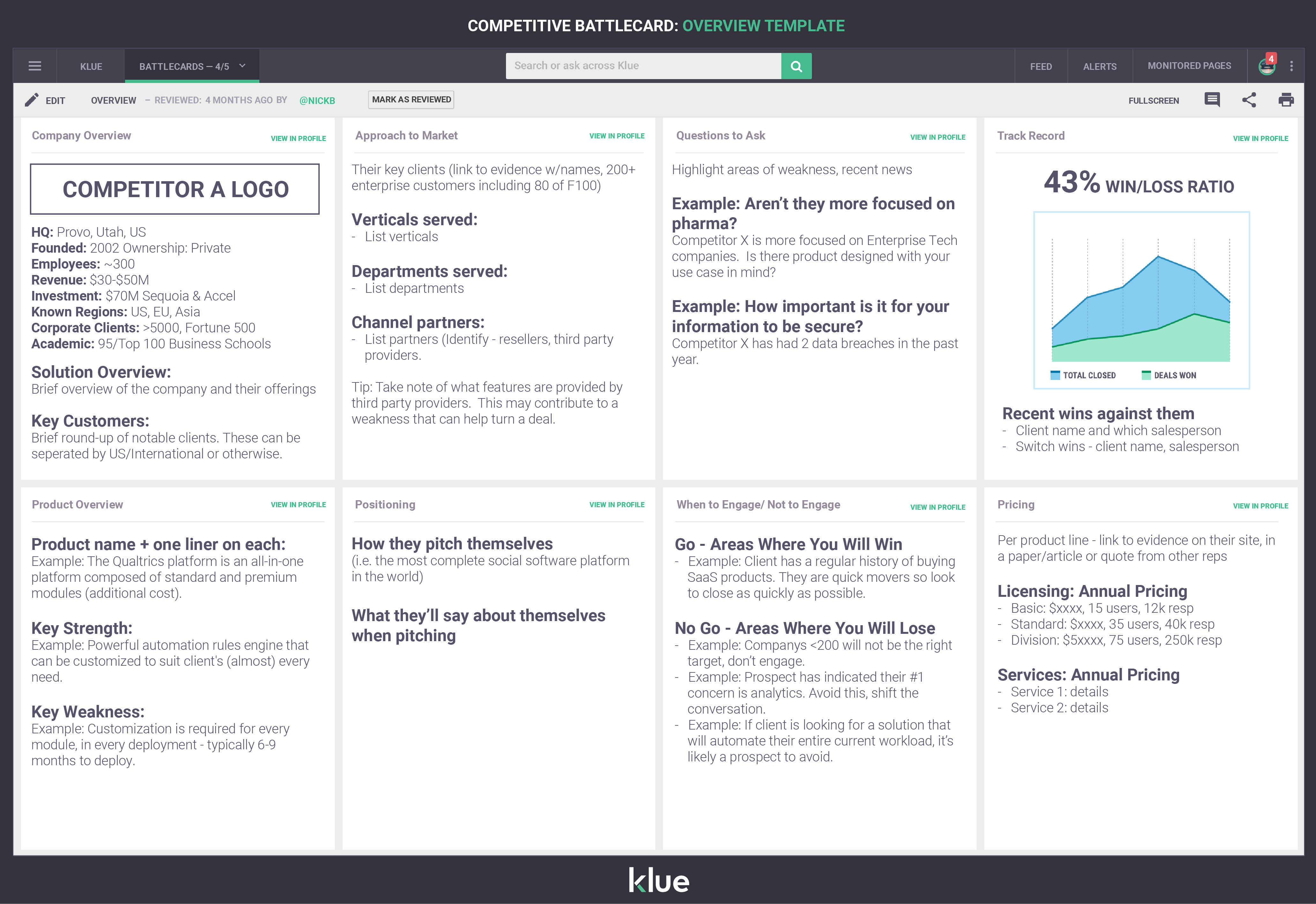 Ready for more? Next up in our series will be the "When to Engage/When Not to Engage" card. Subscribe to the series  Competitive Battlecards 101 and we'll send you a new card each week week so you can start building your library of competitive strategies.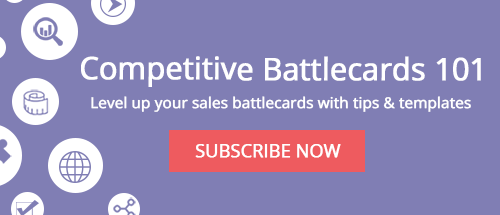 If you've come this far and you're still looking for more on battlecards, download our Product Marketers Guide to Creating Battlecards That Win.