Competitive Battlecards 101: Pricing Battlecard Template
April 5, 2018 by Katie Berg
We're in week six of our Competitive Battlecard 101 series and this week's featured card is the Pricing battlecard template. If you haven't yet, subscribe to our newsletter and we'll send you a new battlecard straight to your inbox each week. If you want to go through all of the cards we've built to date, you can find a running log of all of the battlecard articles here.
Pricing Battlecard Template
We couldn't build competitive battlecards without reviewing the Pricing card. The pricing card is standard issue for any competitive battlecard deck. It contains information on how your competitor sets their pricing. The second purpose of this card is to provide insight to your Sales team into your competitor's pricing strategy and how they use price as a leverage point in deals. Is your competitor notorious for price dropping? Do they position and price their product as a premium or value offering? This is what you'll want to help your Sales team understand.
While we recommend that you try to use each battlecard as an opportunity to reinforce positioning messages, with the Pricing card, your objective is to provide facts on their pricing tiers. It's possible to provide insight into their strategy; but you wouldn't expect to see positioning statements with this card. Should you want to reinforce any other points-  you could instead choose to link back to a Positioning card or to sales support content like proofpoints or case studies.
How To Build a Pricing Battlecard
The first step to building this card is to find all publicly available materials on your competitors pricing. Often times, pricing tiers can be found directly on their website although with enterprise-level products, pricing can be kept offline. If this is the case you can search on customer review sites like G2Crowd or even Quora, where you may be able to find direct testimonials from prospects on what they were quoted by your competitor.
Using this information, you will build basic facts on your competitor's pricing tiers. To generate insights into their pricing strategy, you'll need to look internally. Your sales team has direct contact with your prospects. In deals with known competitors, they are going to be gathering first-hand knowledge on how your competitors' sales team handles pricing. Finding a way to pull information up from your sales team is critical to gaining the competitive edge. Using a tool like Klue that allows intel to be collected, curated and shared across the organization allows you to make use of the internal information that often goes unused in large organizations. 
Using Pricing Intel to Drive Sales Strategy
Take an example from one of our clients. Using Klue to deliver competitive intel to sales, our client was starting to win more deals against a particular competitor. As a result, they started to hear from Sales that the competitor had started dropping prices like crazy to try to claw back their win rate. By knowing that the competitor was going to jump to a dropping prices as a go-to move, our client was able to prepare more positioning messages and pivots for their sales team; to avoid getting into a price war and instead turn the conversation back to finding a values-based solution to the prospects' needs. Having this sort of heads up for both your competitive intelligence and Sales teams, through a pricing battlecard, can have a significant impact on sales performance.
Next Battlecard Template in the Competitive Battlecards 101 Series:
This card is part of our Overview Battlecard Template (click the image below to expand), which is a set of eight of the most commonly used cards we've seen across hundreds of battlecards. We're covering each of these cards one by one in our series Competitive Battlecards 101.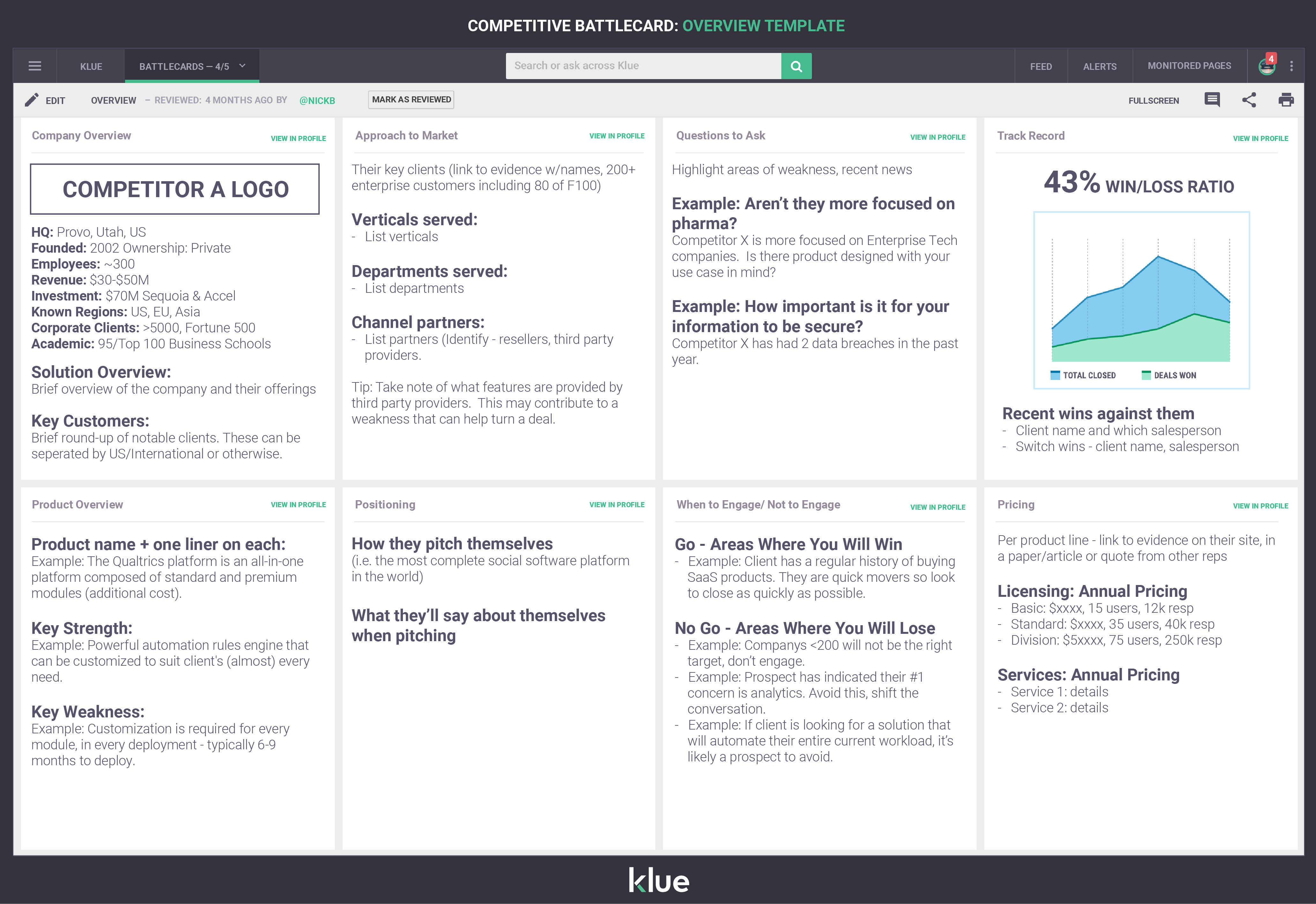 Ready for more? Next up in our series will be the "Positioning" card. Subscribe to Competitive Battlecards 101 and we'll send you a new card each week to build your arsenal of competitive strategies.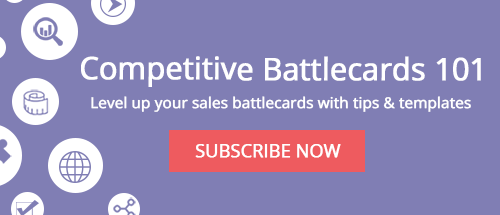 If you've come this far and you're still looking for more on battlecards, download our Product Marketers Guide to Creating Battlecards That Win.