Competitive Battlecards 101: Track Record Battlecard Template
June 21, 2018 by Katie Berg
This week's featured card in our Competitive Battlecard 101 series is the Track Record battlecard. If you haven't yet, subscribe to our newsletter and we'll send new battlecard templates straight to your inbox. If you want to go through all of the cards we've built to date, you can find a running log of all of the battlecard templates here.
Track Record Competitive Battlecard
The Track Record battlecard gives a salesperson intel on how your company performs against a competitor and direct insights from the field on recent wins and losses. This card will typically include the win rate specific to your competitor and sales notes from recent opportunities on how a salesperson won/reasons they lost (pulled directly from Salesforce). Recent wins will share intel on what pushed an opportunity to close – tips on what positioning messages, pricing strategies, etc. worked. Recent losses will give tips on conversations to avoid, and share anecdotes on where a deal went wrong or what mistakes were made positioning against a competitor.
Pulling this type of on-the-ground intel into a battlecard is a very effective tool for enabling your Sales team. While they may naturally be skeptical of sales content developed by your Marketing and Competitive Intelligence teams, they're often more trusting of intel sourced from other salespeople. It's very likely that your Sales team is already sharing this sort of intel informally, through email, Slack, Chatter and other channels. By pulling this intel dynamically into a card, not only are you making sure that intel is shared broadly across your sales team, you're making sure these learnings are formally captured for the entire organization and used to improve sales performance.
Let's walk through a use-case of this card to get an idea of how it works in practice. A salesperson from your company is in a deal against a competitor. The competitor had offered a price far below what the salesperson could match. When he referred to track records card, he found that another salesperson has just been in a deal against this competitor. Notes from their win showed that the competitor was offering the basic package at the lower price, but to get to the features that the customer wanted there were a ton of add-ons. Guess who won the deal after finding that information?
People are sometimes afraid of this card because they think it could be demoralizing if the win rate isn't high, and that it might discourage salespeople from proceeding with an opportunity. However, this card can actually be a great asset. It can be used as a call to action to determine when to start revamping CI and where to refocus efforts if you're losing against a competitor consistently. It can also be a good indicator to your Exec, Product and even Marketing teams about issues with product and market that need to be fixed. Consider sharing this card well beyond your salespeople and to teams who can benefit from hearing directly from the field how your product is faring against competitors.
How to Build the Track Record Sales Battlecard
With Klue we're able to pull win rate and recent win notes into battlecards directly from Salesforce. However, if you don't have Klue, you can still pull this data together.
As always, your goal is for your battlecard data to be relevant and fresh, so connecting your battlecard to your win rate metrics report might be the best way to ensure your data is updated at least on a monthly basis. If your battlecards live in pdf form, updating your battlecards will be painful to update, but if they live in Google Docs/Slides you can at least connect your data to a monthly reporting spreadsheet.
Another recommended step in building this card is to connect your card back to specific wins in Salesforce. This will give your sales team the ability to gather more details to prep for their demos and calls. A critical component to a high performing competitive intelligence program is incorporating intel directly from the field. The Track Record card is a useful example of doing this, which can provide value both to your salespeople but also directly to the strategic decision makers in your organization.
Next Battlecard Template in the Competitive Battlecard 101 Series:
This card is part of our Overview Battlecard Template (click the image below to expand), which is a set of eight of the most commonly used cards we've seen across hundreds of battlecards. We're covering each of these cards one by one in our series Competitive Battlecards 101.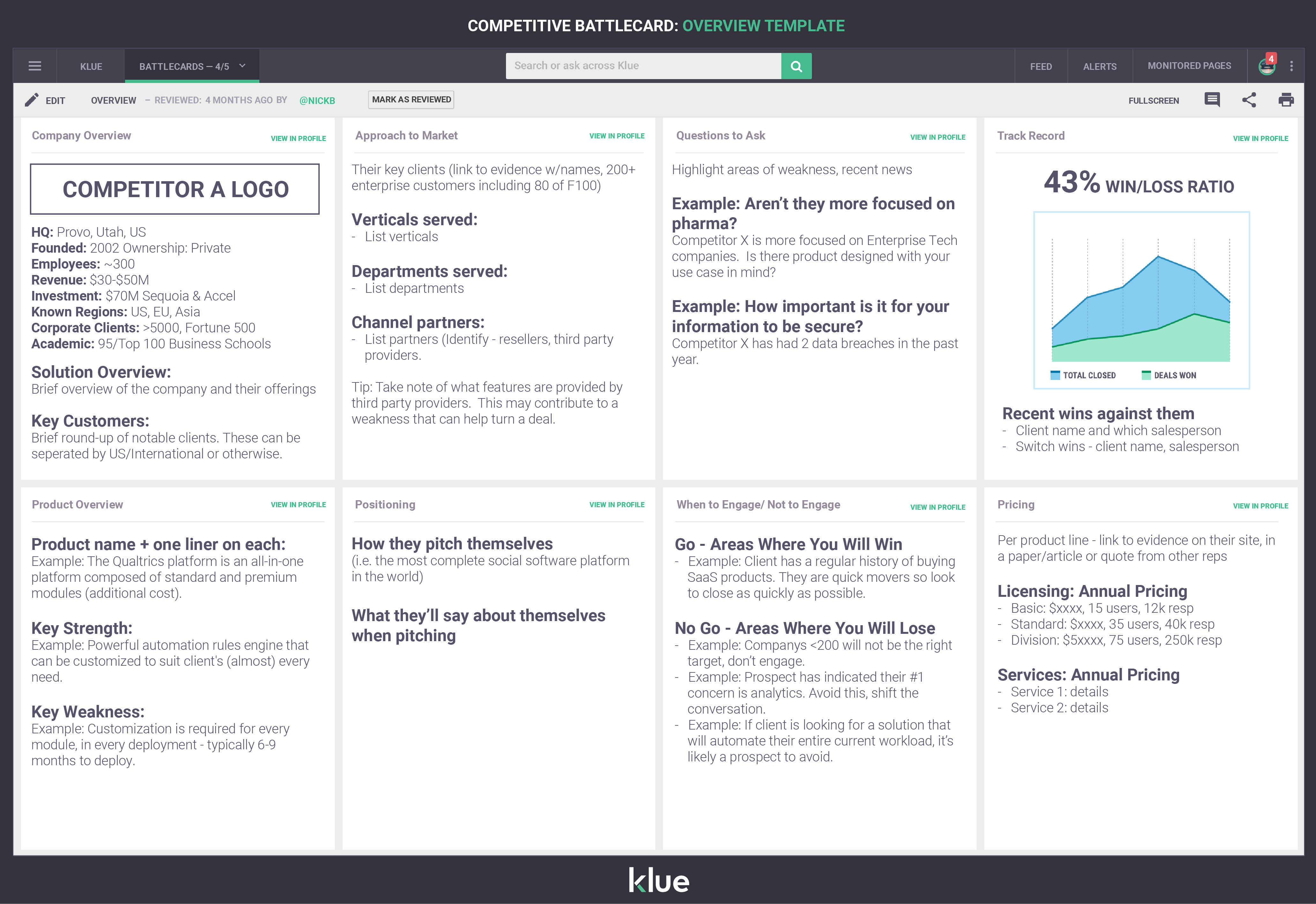 Ready for more? Next up we'll be starting an entirely new battlecard template. Subscribe to Competitive Battlecards 101 and we'll send you new cards to build your arsenal of competitive strategies.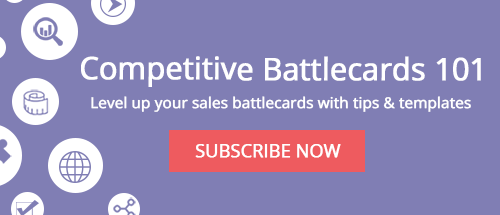 If you've come this far and you're still looking for more on battlecards, download our Product Marketers Guide to Creating Battlecards That Win.