Battlecards
Competitive Battlecards 101: Templates to Improve Your Battlecards
Competitive battlecard templates are tricking you. When you Google, "competitive battlecards," you'll get good-looking Word docs, PDFs and PowerPoint decks. They have nicely formatted little boxes with pre-set headings just begging to be filled with all of your competitive content. This does not improve your battlecards.
Do you know what it actually does? It encourages you to fill space.
Competitive battlecards shouldn't be "filled up", they should contain the absolute minimum amount of content needed to enable your sales team to convert a prospect into a client. Period.
Better Battlecard Templates
In a world where "content is king," when it comes to competitive intelligence for sales, only meaningful content is effective.
To provide an alternative to the over-formatted competitive battlecard templates out there, we've started a series called Competitive Battlecards 101.
The concept is simple: change how you think about making battlecards.
Rather than using a single template for all of your competitors, we want to give you the tools to understand each of the individual cards that can be used to build a full and effective battlecard.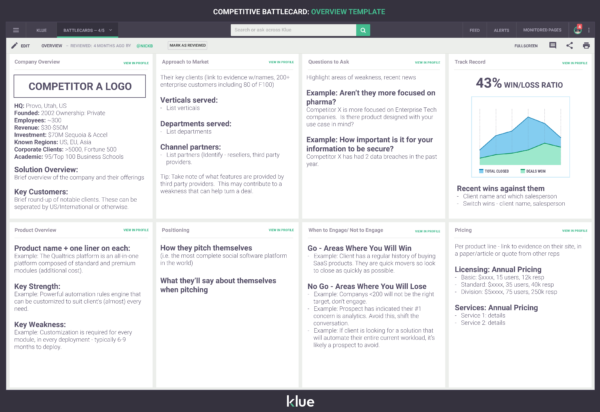 Each post gives you one new competitive card to add to your arsenal, diving into the strategy behind each individual card that makes up the full deck you see above. The articles will be short and sweet. No fluff. Just the facts on what the card is, how to build it, and when and why to use it. There's a smarter way to arm your sales team with intel, and it'll impact your bottom-line.
Want more tips and templates for your battlecards? Check out our Competitive Sales Battlecards 101 guide here.
First up in Competitive Battlecards 101
First up in our series will be the "Approach-to-Market" card.
The Approach-to-Market card explores your competitors' go-to-market strategy and looks at the verticals and departments they serve and how they sell. If you can understand how the sales reps you face-off against are selling, you'll make better decisions about your own sales strategy.
Competitive Battlecard Template Library:
You can check out all of the battlecards in our library to-date by following the links below:
Subscribe to the series  Competitive Battlecards 101 and we'll send you a new card each week so you can start building your library of competitive strategies.